Add to Calendar
2021-12-02 09:00:00
2021-12-02 00:00:00
Europe/Oslo
Young Energy Conference 2021
Kjell Arholms gate 23, 4021 Stavanger
Norsk Petroleumsforening
Young Energy Conference 2021_2021-12-02 09:00:00
02. Dec 2021
Young Energy Conference 2021
Welcome to Young Energy Conference 2021 in Stavanger
Norwegian oil industry towards 2030
Stay safe!
The Norwegian Petroleum Society (NPF) strives to make everyone feel safe at our conferences.
At this event, we will ensure sufficient distance between the seats, have antibac available and offer face masks for those who wants it.
NPF follow the situation closely and we adapt our events according to regulations given by the authorities. We remind you to stay at home in case of illness, and to test yourself if you have any symptoms.
WELCOME to this year's event for young professionals in the oil and gas industry!
The conference is a nationwide event for young people aged 35 years or younger working in the oil and gas industry. The conference is a popular event, and alternates location between Stavanger and Oslo.
NPF would like to provide young people with an arena where they can meet with other likeminded professionals with the purpose of networking, whilst listening to presentations held by experts within their own respective fields focusing on the most relevant trends, challenges and opportunities within the oil and gas industry today.
The event is aimed at giving you as a young professional in the energy industry a chance to look beyond your day to day activities through giving valuable insights into key topics of the industry and getting to know other young professionals in the industry that might inspire you today or prove valuable in the future.
You can expect participants from all parts of the energy business, so be prepared to learn and network to broaden your skillset and meet new people through the day.
On behalf of the committee I welcome you to Young Energy 2021!
Remember that you have to be employed in the energy business and be under 35 to be eligible to participate
Best regards
Adrian Holm, Equinor
Committee leader
Sponsor of Young Energy 2021
**Changes to the program may occur**
Thursday 02. December
09:00
Registration and coffee
Safety brief and welcome to UiS
09:30
Welcome
by the Chair of the committee Adrian Holm, Leader, Equinor
09:35
Change is the only constant
Kristin Færøvik, Managing Director, Lundin Energy Norway
Chair
Jamila Mendoza, Institute Council Deputy Leader, University of Stavanger (UiS)
10:05
Norwegian oil industry towards 2030

An outlook for a competetive industry within a global oil & gas context
Emil Varre Sandøy, Senior Analyst, Rystad Energy
10:30
Exporting Value: Compliance with ESG Standards for Maximizing Energy Investments
Panel:
Ulrik Hallén Øen, Sustainability Advisory | Project Manager Sustainable Strategy, DNB
Aiza Aidekova, Sr Analyst Treasury, Equinor
Pål A. Dahlberg, Chief Sustainability Officer, HitecVision
Joe A. Eliston, Investment Director, Nysnø Klimainvesteringer
Moderator:
Jamila Mendoza, Institute Council Deputy Leader, University of Stavanger (UiS)
11:15
EU Taxonomy: what is it and what does it mean for investments in the energy sector?
Henrik Fabian Torgrimsby, Managing Associate, Thommessen
Chair
Alexandra Makrygiannis, OMV
12:30
Blue ammonia – A short introduction to a future path for natural gas
Ida Furru, Marine Engineer, Horisont Energi
12:55
CCS and Deep Sea Minerals - Working the Energy Transition from an Academic Perspective
Malin Haugen and Solveig Lie Onstad, PhD students, University of Bergen (UiB)
13:20
#MineralsForTheFuture
Dr. Anette Broch Mathisen Tvedt, CEO & Co - Founder Adepth Minerals
13:45
Shaping the future of the D&W industry
Erik Gustav Kirkemo, Senior Vice President, Drilling & Well D&W, Equinor
Chair
Ranveig Halseth, ConocoPhillips
14:40
Are geosciences relevant in the energy transition?
Åshild Danielsen Kvamme, Principal geologist, Equinor
15:05
Status and opportunities of Hydrogen in the energy industry
Zhixin Yu, Professor, University of Stavanger (UiS)
15:30
Energy transition: How academia is tackling the challenges towards 2030 and beyond
Alejandro Escalona, Professor, Head of Department of Energy Resources, University of Stavanger (UiS)
15:55
Closing
by the Chair of the committee, Adrian Holm, Leader, Equinor
16:00
Social gathering with food & drinks
Sponsored by Thommessen
Conference language:
English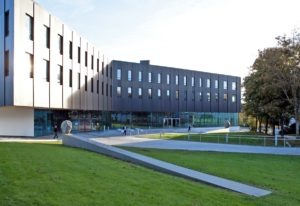 Venue:
University of Stavanger, Kjell Arholms gate 23, 4021 Stavanger, Norway.
The auditorium is located at Elise Ottesen – Jensen's House (UiS East, centre of map)
Transportation and Parking UiS
Organiser:
Norwegian Petroleum Society (NPF), Lilleakerveien 10, 0283 Oslo
Conference fee: 
Free of charge for NPF member
NOK 500 + 25% VAT for non-member
The Conference fee includes:
Conference papers
Coffee/tea
Lunch
Social gathering with food & drinks
Cancellations:
Cancellations must be received in writing by 18th November 2021. If you register for the conference and do not show up or send a replacement, a fee of NOK 1,000 will be invoiced.
Programme changes:
It is sometimes necessary to change timing of the programme. The conference organiser will not be liable for any such unavoidable changes.
Please contact Project Manager if you have any questions: Kristin Øinæs